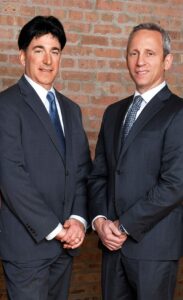 Chicago Litigation Law Firm
A skilled and savvy trial attorney can provide you with the options you need beyond mediations and arbitrations. Negotiating cases may save time and money. However, when litigation is the best option to secure the ideal outcome, our legal team is prepared to protect your rights with dedication and zealous advocacy in the courtroom.
Success Through Collaboration
The legal team is made up attorneys who possess a variety of legal, professional, and life experiences.  They work closely together in a team-driven environment, relying on each other for insight and different points of view as they devise unique solutions to complex issues.
Clients benefit from these continuous interactions in an office where doors are open. Essentially, they retain an entire group of legal professionals possessing varied perspectives and life experiences.
High-Level Legal Representation During High Stakes Time

Whether the attorneys negotiate or litigate, every decision made is based on the best interests of the firm's clients. Each case undergoes an analysis of its strengths and weaknesses combined with the risks versus the rewards. Courtroom experience over the years has provided the firm's attorneys insight into the potential pitfalls to avoid and the best strategies to employ.

The legal team's caliber of work combined with a reputation for being thorough, relentless and effective has resulted in ongoing relationships and a strong referral base from clients throughout the West Loop area.